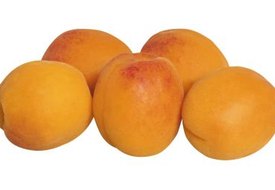 Apricot kernel refers to the seed of the fruit of Prunus armeniaca, more commonly known as the apricot tree. Because the seed is encased in an exceptionally hard shell, it is often called a "stone." In any case, apricot kernels flavor baked goods and liquors, while oil extracted from the seed is used as cooking oil and in the manufacture of cosmetics. The kernel also yields active compounds that may have anti-cancer value, although clinical evidence is conflicting. Apricot kernel also contains a substance known to be toxic at high dosages. As with all pharmaceuticals, do not use apricot kernel preparations during pregnancy or to self-treat any condition without checking with your physician.
Medicinal Benefits
Apricot kernels contain a glycoside known as amygdalin, sometimes called laetrile. Although the two names are frequently used interchangeably, the American Cancer Society says that the latter term actually refers to a modified form of this substance promoted for the treatment of cancer, arthritis and high blood pressure. According to Drugs.com, the use of laetrile as a cancer treatment is currently banned in the United States and in Europe due to possible toxicity from another agent found in apricot kernels: cyanide. Despite this, research continues. A study published in the December 2002 issue of the "Journal of Pharmaceutical Sciences" reported that standardized apricot extract inhibits the expression of P-glycoprotein in the intestines, which would otherwise prevent the absorption of certain drugs. The means that apricot kernel may one day benefit patients with multidrug-resistant cancer.
Culinary Use
Apricot kernel extract is used to flavor the traditional Italian liquor known as amaretto and to enhance almond biscotti cookies, while apricot kernel oil is used for cooking. According to the nutrient database compiled by the U.S. Department of Agriculture, apricot kernel oil contains vitamin E and a variety of essential fatty acids and plant sterols.
Cosmetic Use
Apricot kernel oil is used to make a variety of cosmetics, most notably skin lotions and creams. Applied "neat," or undiluted, apricot kernel oil is readily absorbed into the skin without leaving a greasy residue. It is particularly beneficial for dry, mature skin. Although no oil can "nourish" skin from the outside, the fatty acids and sterols in apricot kernel oil help to moisturize the outer layer of the skin and minimize the effects of photo-aging, or sun damage.
Safety Issues
Some people have allergic reactions to apricot kernel. Poisoning occurs from ingesting the kernels because an enzyme called beta-glucuronidase converts amygdalin into hydrogen cyanide in the intestines. The risk of toxicity is increased by taking high doses of vitamin C or by eating foods high in beta-glucosidase, such as peaches, celery, carrots and bean sprouts.
Photo Credits:
Comstock/Comstock/Getty Images
This article reflects the views of the writer and does not necessarily reflect the views of Jillian Michaels or JillianMichaels.com.