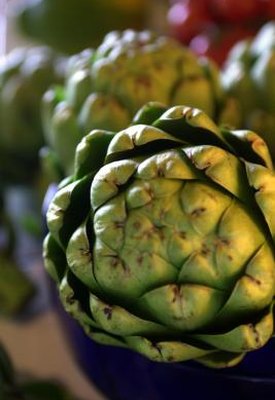 If you want to lose weight, artichoke leaf extract has several theoretical benefits that may help you accomplish your goal. More research is needed as of 2011 to confirm benefits such as lowering blood-sugar levels, decreasing appetite and reducing oxidative stress. Artichoke can interact with medications, so consult a doctor before using it for any purpose.
Blood-Sugar Control
Artichoke leaf extract may help lower your post-meal blood sugar levels, according to a 2011 study in "Phytotherapy Research." Controlling your blood sugar levels is important when it comes to weight loss. Your body releases insulin when your blood sugar levels go up. This hormone transports needed glucose to cells so it can be used for energy. However, insulin also transports excess glucose into fat storage. The 2011 study was done on rats, so more research is needed to see if you would gain the same benefit. Lead study author N. Fantini notes that older theories on artichoke's hypoglycemic, or blood-sugar lowering, effect involve the plant's fiber content, which was not a factor in this experiment since an extract was used.
Appetite Control
Artichoke leaf extract also may help reduce your appetite when it is combined with kidney bean extract, according to a 2011 study published in "Phytotherapy Research." The randomized, double-blind, placebo-controlled clinical trial involved 39 overweight people. The subjects who received the extract instead of a placebo experienced less hunger, according to lead study author M. Rondanelli.
Reduced Lipid Peroxidation
Artichoke may help decrease lipid peroxidation in your body thanks to its antioxidant content, according to a 2002 study published in the "Journal of Agricultural and Food Chemistry." Obesity is associated with enhanced lipid peroxidation, notes D Yesilbursa, lead author for a 2004 "International Journal of Obesity," study. Lipid peroxidation is one measure of oxidative stress in cells. Antioxidants are thought to combat oxidative stress by neutralizing free radicals in your body. High-calorie processed foods lead to spikes in both blood lipids and blood glucose, which can cause oxidant stress, notes a 2007 review in the "Journal of the American College of Cardiology."
Considerations
If you have problems with gallstones, artichoke may exacerbate them because it increases bile flow. Gallstone problems are common during rapid weight loss. When your body metabolizes fat during quick weight loss, your liver secretes extra cholesterol into bile, which can cause gallstones, notes Rush University Medical Center in Chicago, Illinois. Taking artichoke with certain drugs such as bumetanide and furosemide can increase their diuretic effects. It also may raise your risk for hypokalemia, or low blood-potassium levels, when taken with hydrochlorothiazide. Artichoke also can interfere with absorption of drugs like ferric gluconate and iron-dextran complex.
Photo Credits:
Thinkstock Images/Comstock/Getty Images
This article reflects the views of the writer and does not necessarily reflect the views of Jillian Michaels or JillianMichaels.com.