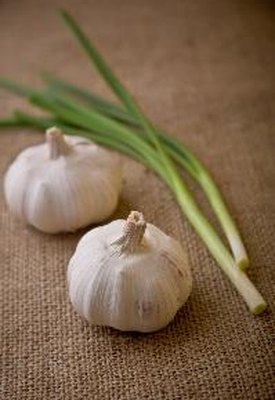 Natives of Asia, onion and garlic plants belong to the same plant family. They contribute flavor and texture to culinary dishes and medicinal compounds to herbal remedies. Ancient cultures utilized the vegetables for their benefits, and their health benefits are still of use today.
Cancer Prevention
The sulfur compounds found in onions and garlic protect cells from developing cancer, according to a 2004 study conducted by researchers from the University of Naples and published in the "British Journal of Cancer." The study found the compounds may be particularly effective for preventing prostate cancer. Researchers said the results warranted further research to further confirm their cancer-fighting potential, particularly because garlic and onions are frequently consumed vegetables that generally cause no side effects.
Immune System Support
The active compounds in garlic, onions and ginger enhance immune function, according to herbalist Susan Mead. She recommends adding them to culinary dishes daily to improve overall health. Fresh herbs contain more of the active compounds, and all three consumed foods together is more beneficial than consuming them individually, according to Mead.
Relieves Gastritis
Garlic and onion destroy a bacteria called Helicobacter pylori, which causes gastritis, an inflammation of the stomach lining that causes stomach pain, indigestion, loss of appetite, nausea and vomiting. The active compounds responsible for the health benefit are flavonoids, a type of antioxidant, according to the University of Maryland Medical Center.
Improves Cardiovascular Health
Garlic and onions inhibit platelet aggregation, improving blood flow and overall cardiovascular health, according to a 1999 study conducted by researchers from the Faculty of Science in Kuwait and published in "Prostaglandins, Leukotrienes and Essential Fatty Acids." The study found that while both vegetables decrease blood clotting, only garlic's effectiveness increases as higher levels of the herb are administered. Garlic reduces platelet aggregation by as much as 50 percent. Both vegetables produced more significant results in the raw form.
Photo Credits:
Garlic and spring onions image by Alena Ozerova from Fotolia.com
This article reflects the views of the writer and does not necessarily reflect the views of Jillian Michaels or JillianMichaels.com.