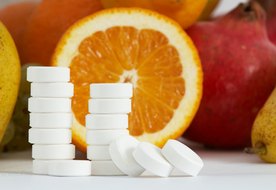 Overview
Vitamin C, also known as ascorbic acid, is an essential water-soluble vitamin that plays vital roles in collagen production, protein metabolism, immune function and iron absorption. The daily recommended dietary allowance of vitamin C is 75 milligrams for adult women and 90 milligrams for adult men. Some evidence suggests that doses as high as 500 milligrams per day may offer additional health benefits. Supplement manufacturers offer vitamin C in a buffered form for those who experience gastrointestinal discomfort when taking non-buffered vitamin C supplements.
Cancer Risk
Dietary vitamin C intake of at least 80 to 110 milligrams per day is associated with reduced risk of lung, breast, colon, stomach, oral cavity, laryngeal and esophageal cancers, according to the National Institutes of Health. However, a nine-year study that was published in the January 7, 2009 issue of the "Journal of the National Cancer Institute" examined the effects of 500 milligrams of vitamin C daily in 8,171 women. Researchers found no significant reduction in cancer incidence or cancer mortality.
Preventing Colds
While vitamin C is often taken to prevent or treat colds, there is very little evidence to back up this practice. The July 18, 2007 issue of "The Cochrane Database of Systemic Reviews" summarized an analysis of 30 clinical studies looking at the effect of supplemental vitamin C on cold prevention and treatment. The report revealed that vitamin C in doses of at least 200 milligrams per day did not prevent colds. Supplemental doses of 250 milligrams to 1 gram per day did reduce the durations of colds by 8 percent in adults and 14 percent in children. This level of vitamin C supplementation was also associated with a 50 percent reduction of cold incidence in adult marathoners, skiers and soldiers in extreme or arctic training conditions.
Coronary Heart Disease
While diets rich in vitamin C are associated with a lower risk of cardiovascular disease, evidence that high-dose vitamin C supplementation may lower cardiovascular risk is contradictory. Nevertheless, the December 2004 issue of "The American Journal of Clinical Nutrition" published an analysis of nine studies of antioxidant supplementation on coronary heart disease in 293,172 total participants. People taking at least 700 milligrams of vitamin C daily had a 25 percent lower heart disease risk.
This article reflects the views of the writer and does not necessarily reflect the views of Jillian Michaels or JillianMichaels.com.