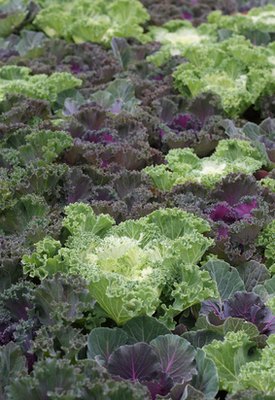 Overview
Calcium is an essential nutrient needed for good health. Calcium helps control blood pressure, and helps prevent osteoporosis and colon cancer. Most people think of milk and dairy products when they think of calcium. However, there are lots of calcium-rich foods available for vegans. Plan your meals carefully and you can get enough calcium intake in your vegan diet.
Leafy Greens
Collards, kale, mustard greens and turnip greens all are excellent sources of calcium. An 8-ounce glass of milk has 300 milligrams of calcium, whereas a cup of cooked collard greens has 357 milligrams. Regularly include leafy greens as part of your lunch and dinner. Leafy greens are also great sources of antioxidants and other nutrients.
Vegetables
Broccoli, Chinese cabbage, okra and bok choy are other vegetables that are also rich in calcium. Include these veggies as part of your dinners, since other vegetables contain significantly less calcium than these.
Soy Products
Many soy products contain high calcium levels. The best calcium-rich soy products are calcium-set tofu, soy beans, soy nuts, soy yogurt and tempeh. The amount of calcium in tofu depends on the coagulant used to make it. Read the label when you buy tofu to verify the calcium level. Combine soy products like tofu or tempeh with broccoli and kale to make a calcium-rich stir-fry.
Seeds and Nuts
Sesame seeds and sunflower seeds have notably high levels of calcium. Keep these around as a snack, or use them to top salads or grain dishes.
Calcium-Fortified Drinks
Eight ounces of calium-fortified soy milk or juice contains the same amount of calcium as a glass of milk. Be sure to select calcium-fortified drinks at your grocery store.
Photo Credits:
Bed of ornamental cabbage, or kale, focus on white leaves image by GeoM from Fotolia.com
This article reflects the views of the writer and does not necessarily reflect the views of Jillian Michaels or JillianMichaels.com.