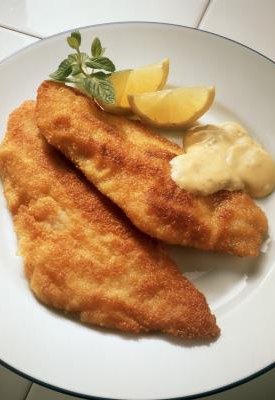 Ask any Southerner what her favorite fish dinner is, and you're likely to hear "catfish." Channel catfish and blue catfish are native to the United States, and for centuries Southerners have enjoyed their flaky fillets coated in everything from cornmeal to French dressing. While it's flavorful enough to grill, catfish is traditionally fried or baked.
Fried Catfish
Step 1
Place the catfish fillets in a large bowl with 1/2 cup of buttermilk. Cover the bowl with plastic wrap and place it in the refrigerator overnight.
Step 2
Heat 4 cups of peanut oil in a skillet set over high heat until it reaches 360 degrees Fahrenheit.
Step 3
Combine 1/2 cup of yellow cornmeal and 1/2 cup of flour in another bowl. Add salt and pepper to taste.
Step 4
Dredge the catfish fillets in the cornmeal mixture, then place them in the skillet in a single layer. Don't overcrowd the pan, or the fillets won't cook evenly.
Step 5
Fry the fillets for five minutes, flip them over and continue frying for another five minutes.
Step 6
Set the fillets on a paper towel-lined plate to soak up any oil that drips off the fish. Serve hot.
Baked Catfish
Step 1
Preheat the oven to 350 degrees Fahrenheit.
Step 2
Place the catfish on a baking sheet lined with aluminum foil. Squeeze half a lemon over the filets, then flip them over and repeat the process with the remaining lemon half.
Step 3
Bake the catfish fillets for 30 to 35 minutes, or until they become opaque and flake easily with a fork.
Step 4
Add salt and pepper to taste and serve hot.
Items you will need
✓

Bowls

✓

8 catfish fillets, 6 ounces each

✓

Buttermilk

✓

Peanut oil

✓

Heavy skillet

✓

Digital food thermometer

✓

Yellow cornmeal

✓

Flour

✓

Salt

✓

Freshly ground pepper

✓

Plate

✓

Paper towel

✓

Baking sheet

✓

Aluminum foil

✓

Lemon
Photo Credits:
Eising/Photodisc/Getty Images
This article reflects the views of the writer and does not necessarily reflect the views of Jillian Michaels or JillianMichaels.com.