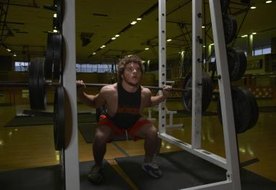 Your hamstrings -- the muscles on the back of your thighs -- work during both squats and deadlifts. The type of squat and type of deadlift both play a role in how much your hamstrings work, with the stiff-legged deadlift working your hamstrings more than other types of squats or deadlifts. Consult a health care practitioner before beginning any strength training program.
Squats and the Hamstrings
Squatting works your hamstrings to a degree, but this will depend on your stance and the degree of forward lean you possess when squatting. A wider stance, such as that favored by powerlifters, allows more of your lower back and hips to contribute to your squatting power. Regardless of stance, the degree of hamstring activation remains directly proportional to the depth of your squat, as this affects the amount your knees flex, according to a 2001 study published in "Medicine & Science in Sports & Exercise."
Conventional Deadlift
The conventional deadlift uses your back, or spinal erectors, as an agonist, or prime mover. Your hamstrings always activate to a degree, but proper technique when deadlifting limits you from using this exercise to effectively work your hamstrings. Your hamstrings only become more heavily recruited the more you leaned forward, and this is something you wish to avoid with a heavy deadlift. The amount of hamstring recruitment in a deadlift remains less than when squatting, as your knees do not flex to the same degree.
Sumo Deadlift
The sumo deadlift uses your legs and hamstrings more than the conventional deadlift, but still less than the squat. The wider stance and greater degree of knee flexion recruits your hamstrings, which function to protect your knee joint and keep your torso vertical during the lift. According to a study published in "Medicine & Science in Sports & Exercise" in 2000, the sumo stance always generated greater knee and hip angles, which resulted in greater leg muscle recruitment.
Stiff-legged Deadlift
The stiff-legged deadlift targets your hamstrings more than other deadlifts, or the barbell squat according to a 1999 study published in the "Journal of Strength and Conditioning Research." While your knees do not flex to a great degree during this exercise, your hips flex extensively. The degree of hip flexion recruits your hamstrings in conjunction with your hips and spinal erectors to control your torso on the way down, and generate power to return to an erect position.
Photo Credits:
Darrin Klimek/Digital Vision/Getty Images
This article reflects the views of the writer and does not necessarily reflect the views of Jillian Michaels or JillianMichaels.com.