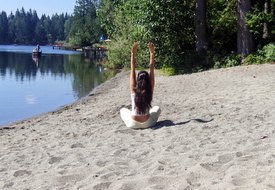 Overview
Stress can negatively affect weight loss efforts and make it difficult to stick to a weight loss program. When stressed, people tend to eat higher calorie foods that can lead to weight gain. Breathing exercises can help reduce stress and help you regain your self-control. Try various breathing techniques to complement your weight loss efforts.
Deep Abdominal Breathing
Slow breathing exercises may affect corticol activity and help reduce anxiety, according to the report of A.W. Yuen and J.W. Sanders in "Can Slow Breathing Exercises Improve Seizure Control in People." Shallow breathing can occur during times of stress. Deep abdominal breathing, which brings the breath deep into the belly, helps counteract shallow breathing and creates a sense of calm. Try this deep abdominal breathing technique to reduce stress and regain focus on your weight loss goals. Sit in a comfortable position and begin by slowly exhaling through your nose for a count of five. Let all the air in your abdomen out and imagine your stomach fully deflating. Pause at the bottom of the breath for two counts then slowly inhale for a five count, allowing your abdomen to fill back up with air. Repeat five to 10 times.
Bellows Breathing Exercise
The bellows breathing exercise stimulates energy. Also referred to as the fire breath or stimulating breath technique, this exercise activates the lungs and chest to allow for normal breathing to occur, according to Marcelle Pick, OBGYN, NP in "Deep Breathing: The Truly Essential Exercise." Perform the bellows breathing exercise by sitting up straight in a chair. Close your mouth and breathe in and out rapidly. Imagine your breath moving similarly to a bike pump. Continue the rapid breathing for up to 15 seconds to stimulate energy. Try performing this technique for a boost of energy before your workouts or cardio exercise.
Three-Part Breathing
Breathing exercises benefit physical and emotional health. Use breathing consciously to influence the involuntary nervous system, which regulates bodily functions such as digestion and circulation. Try the three-part breathing exercise to influence your health and well-being. Begin by sitting comfortably. Exhale through your nose and slowly let the air flow out of your body. Release the air in a wave movement by letting the air out of the chest first, then the upper abdomen, and finally the diaphragm. Pause for two counts, then inhale slowly, reversing the order. Repeat for five to 10 breaths.
Photo Credits:
pilates-breathing stretching image by Leticia Wilson from Fotolia.com
This article reflects the views of the writer and does not necessarily reflect the views of Jillian Michaels or JillianMichaels.com.