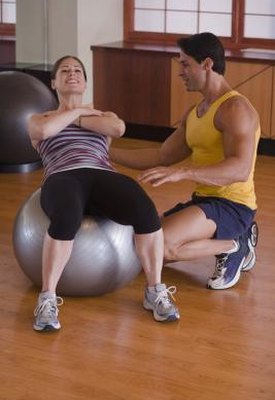 Overview
A fitness trainer, or personal trainer, works with clients to educate and motivate them towards achieving a healthy body and lifestyle. The role of fitness trainers may vary depending on their level of education and the needs of the client. Their status as either an independent contractor or full-time employee may also influence their duties. A trainer may have a degree or certification in a fitness field or have a background that suits the profession, such as professional athlete or dancer. Understanding the basic duties of a fitness trainer will help you make the best choices to achieve your goals.
Assessing the Client
A fitness trainer should spend time with you and assess your needs and current fitness level. Some trainers will record your weight, height and body mass index, or how much fat you have, at the beginning of training. Things to discuss with your trainer include goals, exercise schedule, diet basics and the best cardiovascular and strength routines for you. Once the assessment is complete, the trainer will guide you to change habits that work against fitness, such as eating fast food, and will help you develop habits to improve your health. Unless your fitness trainer is a certified nutrition or dietitian, those with a controlled diet or illness should discuss food choices with a medical professional.
Training the Client
It is the job of a fitness trainer to develop exercises that work towards improving your body tone and overall health. The trainer has the knowledge to provide you with workout routines that are both safe and effective. All exercises should be demonstrated to the client so they are both effective and accomplished without injury. Strength training may include the use of equipment, such as weight or resistance machines. The fitness trainer will teach you how to use the equipment and will stay with you until you become confident with the tool. A trainer will teach you proper ways to burn calories during cardiovascular exercising. For example, if you and your trainer decide walking is the best exercise for you, the trainer should explain proper strides and interval speeds to get an effective workout.
Motivating the Client
Many people can develop their own exercise routines and work towards goal without a trainer. Becoming fit is a not an easy task and can be hard to maintain. A fitness trainer will help keep you motivated with encouragement and remind you about your goals and the benefits of exercise. A trainer should monitor your progress and make adjustments along the way to improve routines. For example, a trainer will work with you and tell you when to increase weight loads and add additional repetitions when strength training. He might suggest walking faster or increasing your distance to advance cardiovascular training. Working without a trainer means when you get discouraged, you might quit. A fitness trainer's job is to encourage you to continue and keep you on a path to achieve your goals.
Photo Credits:
Jupiterimages/Stockbyte/Getty Images
This article reflects the views of the writer and does not necessarily reflect the views of Jillian Michaels or JillianMichaels.com.