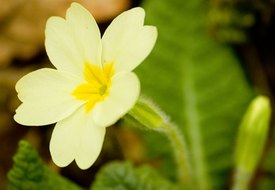 Overview
Oenothera biennis, commonly known as evening primrose, grows throughout North America and Europe. Oil extracted from the plant and the ripe seeds is an herbal remedy for various health disorders, as well as a nutritional supplement that provides the omega-6 fatty acid gamma-linolenic acid, according to the University of Maryland Medical Center. You can buy evening primrose oil as a bottled oil or in capsules.
Anti-Inflammatory Properties
Omega-6 fatty acids are essential for health, and must be obtained through diet or supplements. GLA is important because some other types of omega-6 fatty acids increase inflammation in the body, while GLA decreases inflammation. Some research indicates that evening primrose oil may help relieve the pain and inflammation of rheumatoid arthritis when taken as a long-term supplement, according to the American Cancer Society.
Skin Benefits
Evening primrose oil as an internal supplement also has benefits for several skin disorders. People take this oil to relieve itchiness from dermatitis, rashes and hives. Evening primrose also is beneficial for the itchiness, redness, scaling, oozing and crusting of eczema. Over 30 studies indicate benefits of evening primrose oil for treating eczema and dermatitis, as explained by the UMMC.
Diabetic Neuropathy Benefits
The UMMC notes that evening primrose oil may decrease symptoms of diabetic neuropathy, a nerve condition causing numbness, tingling or pain in the feet. A study published in the January 1993 issue of Diabetes Care compared patients with mild diabetic neuropathy taking a GLA supplement to those taking a placebo. The authors found that participants taking GLA improved in all 16 study parameters over one year compared to people taking the placebo. The difference was statistically significant for 13 parameters. Parameters included sensation, tendon reflexes, and hot and cold thresholds.
Benefits for Women
Evening primrose oil may be effective at relieving breast tenderness and pain from premenstrual syndrome or other causes, but scientific evidence is mixed, according to the UMMC. Women might also experience some benefits from taking evening primrose oil for other symptoms of premenstrual syndrome, such as bloating and mood swings.
Breast Cancer Treatment
A study published in the March 1, 2000 issue of the International Journal of Cancer indicated that GLA is beneficial as an adjunctive therapy to tamoxifen for treating breast cancer. Patients taking GLA along with tamoxifen experienced a significantly faster clinical response than patients taking tamoxifen alone.
This article reflects the views of the writer and does not necessarily reflect the views of Jillian Michaels or JillianMichaels.com.