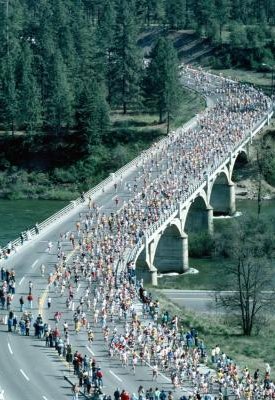 Running a 5K serves various purposes, depending on your level of training. Because it is a relatively short distance, it can be used as a measure of progress in almost any training program. A "good" pace for running a 5K is different depending on your training level and natural athletic ability. However, no matter what your pace, you can improve it with specific training.
Beginner
Training for a beginning runner should be focused on simply finishing the race rather than aiming for a specific time goal. Intervals of running and walking are generally used to build endurance until you are ready to run the 5K distance. The American Council on Exercise outlines a beginner 5K training program that can be completed in eight to 10 weeks and builds up to running for 30 minutes at a time. It is recommended that you do not push your limits but challenge yourself to reach the finish line injury-free. A good pace for your first 5k would be slightly faster than your pace per mile on your daily runs.
Intermediate
Finishing a 5K may seem easier as you move into intermediate running status. Work on improving your time through simple speed exercises. Running expert Jeff Galloway suggests adding a speed workout once per week in place of one of your runs. Use your local track to follow his plan and start by running four 400 m intervals eight seconds faster than your intended race pace. Rest by walking half a lap between intervals. Add another speed interval to your workout each week until 10 days before race day. A good pace for your next 5K after these workouts would be a pace per mile 20 to 30 seconds slower than your 400 m pace. For instance, if you run your 400 m repeats in two minutes, expect to run between 8:20 and 8:30 per mile at your race.
Advanced
If you have been running for a few years and consistently run high amounts of mileage each week, improving your 5K pace may seem like an easy feat. However, backing off your training now is not an option if you want to run a personal record at your next race. In addition to the speed work you have been doing, Hal Higdon suggests adding anaerobic threshold workouts in the form of tempo runs to your routine. In these workouts, you'll warm up at an easy pace for 10 minutes, run 15 minutes at a pace slightly slower than your expected 5k pace and finish with 10 minutes easy. Combined with your other runs, this workout can improve your 5K pace over a 12-week period. Aim to run your next 5K at a pace 10 to 20 seconds faster than your pace in these workouts. If you ran 8-minute mile pace in the workout, try to run each mile during the race in 7:40 to 7:50.
Considerations
As with any exercise program, consult your doctor before starting a new running plan. Not all runners will have the same results, as running a good pace is subjective to the runner's health and conformity to the program used for training. Vary your runs and take time between races for best results. Exhausted muscles will not run your best 5K, so be realistic in your goals and take time to rest.
Photo Credits:
Jupiterimages/Photos.com/Getty Images
This article reflects the views of the writer and does not necessarily reflect the views of Jillian Michaels or JillianMichaels.com.