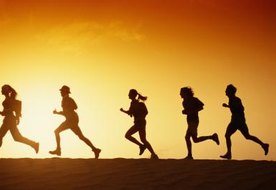 Whether you're new to triathlon or a seasoned veteran, following a plan for your training can keep you focused and on track to meet your goals. If you aren't ready to invest in a personal coach but are are aspiring to complete your first, second or tenth half Ironman, a variety of free training programs are available online.
20-Week Plan
The 20-week training plan featured on BeginnerTriathlete.com, involves six specific training periods. The plan requires five to six days a week of training for one to two hours. Each training period of the plan has five segments: race prep, efficiency, training, physical health and mental health. The segments prepare you for your race-day strategy, nutrition, equipment setup and course knowledge. This plan is suitable for beginners but best for those who have some endurance training experience.
18-Week Plan
The intermediate half Ironman training program on Tri-Newbies Online is designed for triathletes who have completed several triathlons and can run 7 miles in an hour with relative ease. The first 12 weeks are a base-building phase in which you'll increase mileage gradually. The next four weeks are for speed building weeks; which can increase the quality of your racing. During the last two weeks you'll taper and prepare for race day.
16-Week Plan
In this program, created by Breakaway Training, you need to have seven to 13 hours a week available for training. This program is recommended for those who have completed at least one half Ironman. Before starting this program, you should be able to swim 45 minutes, cycle 120 minutes and run 60 minutes without stopping. For 14 weeks, you'll slowly build up the amount of time you swim, bike and run. You will taper and prepare for race day during the last two weeks.
Considerations
Before starting a half Ironman training program, run shorter races to help you get comfortable with completing all three sports at once and transitioning from one to the next. Triathlon training can take its toll on your body so get plenty of rest and maintain proper nutrition while training. If you struggle to stay motivated or find yourself battling injuries, consider hiring a coach who can help you tailor a training program to your needs.
Photo Credits:
David De Lossy/Digital Vision/Getty Images
This article reflects the views of the writer and does not necessarily reflect the views of Jillian Michaels or JillianMichaels.com.