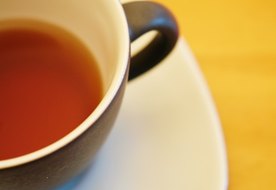 Overview
Rooibos tea, also known as African Red tea, is made from the fermented needle-shaped leaves of the rooibos shrub. Practicers of traditional African medicine have used rooibos tea for centuries to treat many different conditions, and modern research suggests that rooibos tea contains a high level of nutrients and antioxidants.
Kidney Stones
Ten percent of Americans suffer from the agonizing condition of kidney stones, according to an article on the Pacific College of Oriental Medicine website. Kidney stones form when there is a high concentration of calcium and other minerals in the kidneys. These minerals clump together to form crystals that painfully pass through the urinary tack to exit the body. This high concentration is commonly caused by dietary factors or a lack of hydration. The best treatment to prevent kidney stones is to drink plenty of fluids. The article suggests that drinking decaffeinated herbal teas low in oxalate, a compound that can exacerbate the formation of kidney stones, is the best way to keep the body hydrated to prevent kidney stones. These factors make rooibos tea one of the best beverages to drink to prevent kidney stones, as it contains no caffeine and no oxalate.
Cancer
Rooibos tea contains high levels of flavonoids, polyphenols and phenolic acid, powerful antioxidants that are considered immune-boosting and cancer-fighting agents. Research cited by the Memorial Sloan-Kettering Cancer Center website demonstrates a potential for rooibos tea to possess antimutagenic properties to prevent cancer cells from forming. An animal study provides evidence that rooibos tea may protect against radiation damage commonly associated with the development of certain cancers.
Other Benefits
Rooibos tea has been given to individuals who suffer from insomnia, irregular sleeping habits and headaches due to its decaffeinated state and relaxation effect on the nervous system, notes the article "Medicinal Crops of Africa." It adds that roobios tea has a high concentration of energizing minerals such as iron, potassium, zinc, magnesium and sodium, making it useful to boost hydration and endurance during a workout session or sporting event.
This article reflects the views of the writer and does not necessarily reflect the views of Jillian Michaels or JillianMichaels.com.