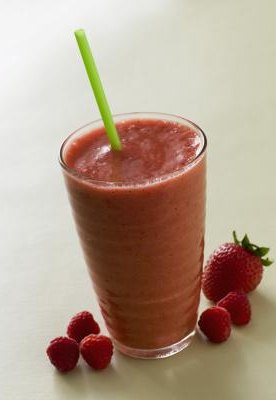 A smoothie is a quick way to include extra nutrition in your diet. Smoothies packed with fruits and vegetables help sneak in servings of vegetables and fruits into your meal plan. A smoothie is only as healthy as the ingredients used to make it, however. Recognize the potential health benefits and calorie implications of your next smoothie.
Fruit Servings
The U.S. Department of Agriculture MyPlate dietary guidelines recommend that most adults take in a minimum of two cups of fruit daily. A smoothie is an easy way to fit in all these servings. A smoothie made with a banana half, 1 cup of frozen peaches and ½ cup of raspberries contains a whole day's worth of fruit.
Ingredient Potential
Smoothies can be a way to obtain a concentration of nutrients from vegetables. Nutrient and antioxidant-rich foods such as arugula, romaine lettuce, baby spinach, cucumber and watercress can be made more palatable by blending them with blueberries and almond milk. Smoothies are also a good vehicle for other nutritious foods, such as protein-rich chia seeds, hydrating young coconut water and omega-3-dense ground flax seed, note Matthew Kenney and Sarma Melngailis in "Raw Food, Real World."
Protein
Enhance your smoothie with whey, soy, rice or egg protein powder to increase your overall protein intake daily. Most people obtain adequate amounts of protein in their diets, according to the Centers for Disease Control and Prevention. Some vegetarians who do not consume eggs, dairy or soy, and athletes, who need increased protein amounts as per the International Society for Sports Nutrition, benefit from smoothies enhanced with these protein powders.
Misconceptions
Not all smoothies are good for you. Many smoothies purchased from smoothie shops or fast food restaurants contain high amounts of sugar and calories. For example, the average original-size banana berry smoothie contains 400 calories and 82 grams of sugar. A smoothie made at home with half of a banana, 1 cup of frozen strawberries, 11 ounces of plain yogurt and 1 tablespoon of honey, contains just 266 calories and 42 grams of sugar. Smoothies containing chocolate or nuts usually contain even higher calories than fruit flavors. Some smoothies are made with fruit-flavored syrups instead of real fruit, providing little in the way of nutrition.
Homemade Smoothies
Make smoothies at home to control the ingredients. Use frozen bananas and berries to create a creamy texture without adding ice cream or sugary sorbet. If you add juice to smoothies, stick to 100 percent varieties rather than "cocktails" or "drinks" that often contain sugar or high fructose corn syrup. Before using any supplements in your smoothies, check with your health provider.
Raw Food, Real World; Sarma Melngailis and Matthew Kenney; 2005
Photo Credits:
Thinkstock Images/Comstock/Getty Images
This article reflects the views of the writer and does not necessarily reflect the views of Jillian Michaels or JillianMichaels.com.