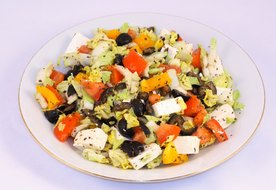 A healthy lifestyle includes eating a nutritious lunch. If you have a highly stressful job and are unable to take a long lunch, you may want to consider healthy, easy lunch ideas. You can either prepare these lunch ideas at home and keep your meal stored in the refrigerator at your office or select your favorite restaurants and request these same or similar foods. Consult your nutritionist about your diet and eating a healthy lunch.
Greek Salad
A Greek salad is among the most nutritious meals you can have for lunch. A Greek salad includes a generous amount of dark green leaf lettuce, such as Romaine, tomatoes, cucumber, onion, bell pepper, olives and feta cheese. The dressing for the salad consists of extra-virgin olive oil, red wine vinegar, sea salt, black pepper, oregano and lemon juice. The Centers For Disease Control and Prevention states that consuming a colorful variety of vegetables every day may reduce your risk of chronic diseases including high blood pressure, stroke, cancer, type 2 diabetes and heart disease. Olive oil contains monounsaturated fatty acids, healthy fats that may lower your levels of LDL cholesterol, the bad cholesterol, and reduce your risk of heart disease. Extra-virgin olive oil contains a higher concentration of polyphenols than virgin olive oil or olive oil; polyphenols are antioxidants that can promote heart health.
Sandwich
A sandwich made on whole grain bread with avocado, your favorite low-fat cheese, tomato and alfalfa sprouts with cole slaw and pickle on the side is a quick and easy lunch to prepare or request from many delis or other types of restaurants. Whole grains contain the full nutritional content of the plant, including the bran, germ and endosperm. Avocados contain monounsaturated fats and low fat cheese is a good source of calcium to build and sustain strong bones.
Fruit Yogurt With Walnuts
Fruit yogurt with walnuts is a very easy lunch. Yogurt can be made from either dairy or soy. Low-fat dairy yogurt is a good source of protein and calcium, whereas soy yogurt provides quality protein, calcium and isoflavones, antioxidants with estrogen-like properties that may reduce your risk of cancer. Fruits contain antioxidants that protect your cells from chemicals and toxins that may increase your risk of cancer and cardiovascular disease. Walnuts contain alpha-linolenic acid, an omega-3 fatty acid that may reduce your risk of heart disease.
Salmon
Consuming salmon is part of a heart healthy diet. Salmon contains eicosapentaenoic acid and docosahexaenoic acid, omega-3 fatty acids that may slow the growth of atherosclerotic plaque and reduce your risk of heart disease. You can cook salmon in a variety of ways, including baking, or stir-frying it with teriyaki sauce. Eat your salmon with a bowl of brown rice and a green vegetable such as broccoli, kale or bok choy. Kale, bok choy and broccoli are among the most nutrient-dense foods. The USDA Dietary Guidelines recommends that you emphasize eating nutrient-dense foods each day.
This article reflects the views of the writer and does not necessarily reflect the views of Jillian Michaels or JillianMichaels.com.