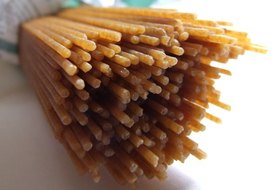 Overview
If you believe eating healthy empties your pocketbook faster than you can say "organic vegetables", think again. Pound for pound, plant-based foods cost less and have fewer calories than animal products, and they supply your body with healthy fats, fiber, vitamins, minerals and antioxidants. When meat takes the back seat, you can easily feed your family healthy meals on a budget.
Stir Fry With Brown Rice
Build a healthy family meal around colorful fresh vegetables and brown rice in an Asian-inspired stir-fry. To keep cost and portions in check, cook only 2 to 3 ounces of meat per person. Instead of paying big bucks for a pre-made sauce—often loaded with high-fructose corn syrup and empty calories—make your own with lime juice, soy sauce, minced garlic and Chinese five-spice powder, whisked together and added in during the last few minutes of cooking. Using brown rice instead of white serves up more protein, fiber and magnesium and may help fight belly fat, according to a study published in the January 2008 issue of the "American Journal of Clinical Nutrition."
Whole-Grain Pasta and Salad
Whole-grain pasta has come a long way in taste and texture from the early varieties to the soft and delicious whole-wheat noodles served today. To begin, dress your pasta with a tablespoon of olive oil per serving to reap the benefits of this Mediterranean diet staple, including a trimmer waistline, according to the July 2007 issue of "Diabetes Care." You can keep it simple and toss in some Parmesan cheese, fresh herbs and vegetables such as halved grape tomatoes or sauteed mushrooms. Or spice it up with a homemade marinara sauce and some Italian turkey sausage cooked and sliced in one-quarter–inch chunks. Serve a green salad on the side for a filling and nutritious meal.
Grilled Fruit and Veggie Kebobs
When summer grilling season rolls around, skip the old burger standby for some fresh and fun food the whole family can prepare and enjoy. Choose firm vegetables that can easily be cut into chunks or are already bite-sized such as zucchini, mushrooms, cherry tomatoes, bell peppers and onions. Make kebobs with fruits, such as peaches, nectarines, pitted cherries and pineapple, to add a bit of sweetness to your meal. For protein, add chicken, shrimp or tofu, but keep meat and vegetables separate to minimize the risk of food-borne illness and because cooking times differ. Although the natural flavor of these foods intensifies with grilling, you may wish to season them with a little vinaigrette made of olive oil, garlic, balsamic vinegar and herbs and spices. Allow vegetables to marinate for a minute or more in this before grilling. Meat, shrimp and tofu can marinate for half an hour or longer.
This article reflects the views of the writer and does not necessarily reflect the views of Jillian Michaels or JillianMichaels.com.