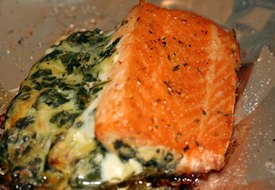 Overview
If you're currently looking to put on weight, you might feel tempted to indulge in your favorite treats as a calorie boost. However, you'll still need nutrients while you gain weight, and getting your calories from healthful foods in better for your health. However, if you've increased your calorie intake and you're still loosing weight, you should seek medical attention instead of simply eating more. Several health conditions cause unexplained weight loss, and a doctor can examine you to rule out an underlying disease.
Healthy Fats
Fatty foods contain more calories than other foods -- because each gram of fat contains more than twice the calories of a gram of carbohydrate or protein -- and will help you to gain weight quickly. Switch to extra virgin olive oil, with its healthy omega-3 fats, for salad dressing and cooking, and add healthy, high-calorie avocado slices to sandwiches and salads. A tablespoon of of flaxseed oil -- a source of healthy omega-3 fatty acids -- plus 4 tablespoons of peanut butter will add close to 500 calories to your daily intake.
Calorie-Dense Carbohydrates
To maintain the healthiness of dense-calorie carbohydrates, choose whole grains, beans and yams. Fruit has more calories than vegetables, so eat more apples, oranges and bananas, while maintaining a normal intake of vegetables. Try fresh juice -- it provides the vitamins and minerals of whole fruits and veggies, but it's much higher in calories. Look for brands that contain a minimal amount of added sugar, or invest in a juicer to make your own high-calorie, healthy fruit juices.
High-Calorie Protein
Choose healthy, high-calorie food like salmon, beans and nuts and sources of protein in your diet. A 4-ounce portion of salmon has 262 calories while 4 ounces of Haddock has 137 calories. All fish contain healthy, omega-3 fats, but fish with darker, oilier flesh contains more calories and more healthy fat. Add handfuls of almonds or walnuts to your dinner salad and to your breakfast oatmeal for more healthy, high-calorie nutrition.
High-Calories Snacks
Snacking on high-calorie foods will add calories to your day without making you too full at regular mealtimes. Try smoothies made with milk or fruit juice, frozen fruit and all-natural peanut butter for added calories. Adding silken tofu to your smoothies also boosts your calorie and protein intake, and imparts a smooth, creamy texture. Alternatively, snack on cheese, yogurt, whole-grain muffins or a handful of nuts.
This article reflects the views of the writer and does not necessarily reflect the views of Jillian Michaels or JillianMichaels.com.