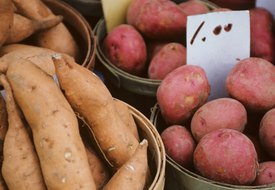 Your kidneys are responsible for filtering many minerals, proteins and substances in the body. To keep them healthy, the minerals you consume should not exceed your kidney's ability to filter them. If you have experienced impaired kidney function, such as kidney disease, kidney infection or kidney stones, your physician may recommend that you follow a special diet to maintain your kidney health.
Low-Potassium Foods
If you have kidney disease or have been diagnosed with impaired kidney function, your physician may recommend eating a low-potassium diet. If your kidney function is impaired, the kidneys may not filter potassium sufficiently, causing muscle weakness, tingling or an irregular heartbeat. Low-potassium fruits and vegetables include apples, blackberries, blueberries, cherries, asparagus, green beans, carrots, lettuce, pineapples and zucchini squash. You also can eat rice, noodles, pasta and bread products that are not made with whole grains.
Proteins
A healthy kidney diet requires careful monitoring of protein intake. If you are undergoing dialysis treatments, your physician will recommend eating a lower-protein diet before dialysis. This involves restricting protein intake, such as chicken, meat, peanut butter, fish or soy products. However, during and immediately after dialysis, your physician will recommend eating a higher protein diet. The increased protein intake will help rebuild lost muscle after dialysis. At this time, you should eat between 8 and 10 ounces of protein per day. In addition to protein sources like egg whites, chicken, fish, eggs and pork, you can blend protein shakes for a fast, accessible choice.
Phosphorus
Like potassium, phosphorus is another mineral that should be carefully monitored for your kidney health. If you have kidney disease, your physician may recommend restricting your phosphorus intake to between 800 and 1,000 milligrams per day. Foods that are high in protein tend to be high in phosphorus and should be avoided. Instead, eat foods like rice milk, cream cheese, soups, white breads, potatoes, winter squash, green peas or green beans.
Foods to Avoid
If you have impaired kidney function, some foods contain excess phosphorus or potassium and can burden the kidneys. Foods such as whole grains, cooked broccoli, cooked spinach, prunes, raisins, orange juice, chocolate, bananas, granola and bran products fit in this category. Read food labels carefully for ingredients such as calcium phosphate, disodium phosphate, phosphoric acid or tricalcium phosphate, all of which can indicate added phosphorus.
Photo Credits:
Sweet Potatoes and New Potatoes in Baskets image by bawinner from Fotolia.com
This article reflects the views of the writer and does not necessarily reflect the views of Jillian Michaels or JillianMichaels.com.