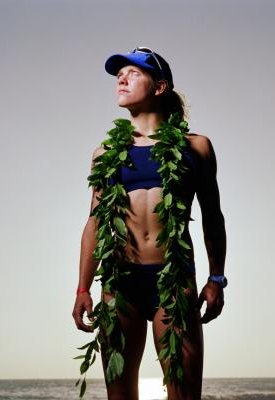 Training for an Ironman triathlon is a daunting task. The goal of the race is to push your body to extreme levels, and that means women who are training for an Ironman triathlon need to take their nutrition awareness to extreme levels. Protein, carbohydrates, fats and hydration are all necessary in correct amounts to get the most out of training, and sugars need to be dealt with carefully.
Protein
Protein is the building block of repairing muscles, and when you run, bike and swim excessive distances, repairing muscle is tantamount. Muscle endurance enables competitors to keep going when they feel tired, so maintaining muscle is one of the more important parts of Ironman training. While athletes do not need to get bulky, they need enough muscle to withstand a triathlon. Exercise is more effective when paired with a high protein diet and strong, healthy muscles are critical to success. Foods like chicken, beef, fish and cottage cheese are excellent sources of protein for athletes.
Hydration
Proper hydration is a part of a nutritional training program, as the lack of water in an athlete's system can cause the body to shut down. Drinking enough water on a daily basis when not training can prevent future dehydration, but during training it is important not to drink too much. According to endurance coach Dara Wittenberg, athletes should practice for the real thing by taking in 8 ounces of water after the swim portion, another 12 ounces during the first 20 minutes of biking and 24 ounces per hour while running.
Sugar
Sugary foods taste great. They are not great for Ironman triathlon training. According to Preparetotri.com, athletes should avoid all unnecessary sugar during their training period, which could be as long as a year. Sugar provides athletes an initial kick of energy but soon makes them feel sluggish and worn down. That instability in glucose levels can cause racers to fatigue quickly. Sugar also can impact hydration levels in a negative way.
Fat
The word fat has earned a negative connotation among athletes. However, when training for an Ironman triathlon, it is a necessary component of your training nutrition plan. According to an article about the importance dietary fats on Ironman.com, fat does serve an essential role in an endurance athlete's diet -- it's a matter of knowing which kinds of fat and how much to include. Fats provide body warmth and extra energy for athletes. Healthy fats include the unsaturated fats found in nuts, seeds and vegetable oils.
Carbohydrates
Carbohydrates get converted straight into energy, so they are vital in the training process. High carbohydrate foods like breads and pastas provide calories to burn, and considering the length of an Ironman triathlon training session, athletes will need as many calories to burn as possible. High carbohydrate foods are only effective with active people. Those who eat loads of carbohydrates and do not engage in physical activity may gain lots of weight.
Photo Credits:
Mike Powell/Lifesize/Getty Images
This article reflects the views of the writer and does not necessarily reflect the views of Jillian Michaels or JillianMichaels.com.