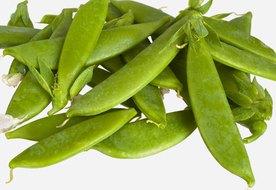 Overview
Snap peas are characterized by a small spherical seed pod called a legume. With several peas in each pod, the sweet and crunchy pod from snap peas can be cooked, prepared and added to a number of dishes. Snap peas are often considered a vegetable and contain several health-promoting nutrients.
Calories
One cup of chopped snap peas -- about 98 grams -- contains 41 calories. The calories primarily come from the 7 grams of total carbohydrates -- about 30 calories -- with additional calories coming from the 3 grams of protein --about 9 calories. With a total fat content of less than 1 gram, there are two calories from fat in a serving of snap peas.
Glycemic Index
The glycemic index is a measurement of how a food affects blood-sugar levels. As a legume, snap peas have a relatively low glycemic load due to the low amount of total carbohydrates. Of the 7 grams of total carbohydrates, 4 grams are sugars and 3 grams are dietary fiber. According to the Nutrition Data website, experts say that a target for an overall glycemic load is 100 or less per day, and one serving of snap peas only contributes three to that total.
Vitamins and Minerals
Snap peas contain significant amounts of several different vitamins and minerals. The most abundant vitamins include vitamin C -- about 98 percent of your recommended daily value (DV) -- and vitamin K -- about 31 percent DV. Other vitamins include vitamin A, riboflavin, thiamin, riboflavin, niacin, vitamin B6, folate and pantothenic acid. Top minerals include iron and manganese with about 11 and 12 percent DV, respectively. Other minerals include calcium, magnesium, phosphorus, potassium, zinc, copper and selenium.
This article reflects the views of the writer and does not necessarily reflect the views of Jillian Michaels or JillianMichaels.com.