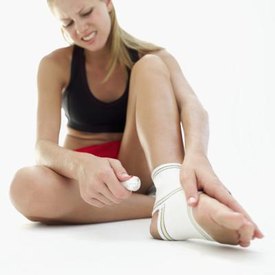 There is a 40 to 70 percent chance of re-injurying a sprained ankle. An ankle sprain occurs happen a tendon or ligaments gets torn or stretched too far, usually from rolling the foot inwards. There are three levels of severity of an ankle sprain and all of them include stiffness of the joint. Rehabilitation exercises that work to make a stiff ankle flexible again lower the risk of re-injury. These include range of motion exercises for the ankles and stretching exercises for the calf muscles.
Ankle Range of Motion Exercises
Generally, sprained ankles do not require surgery. Four to six weeks of protection including rest, elevation, icing and compression support such as taping or castboots to immobilize the ankle are the elements you need for recovery. Range of motion exercises early on prevent stiffness from occurring. They also restore range of motion. To work the ankle, first twist the ankles side to side. Then, circle the ankle clockwise and counterclockwise.
Stretching with Overpressure
Stretching with overpressure is an exercise to stretch the ankle in each direction. To perform this stretch, sit and cross your leg with the stiff ankle onto your other thigh. Point your toes and use your hand to press down and extend the stretch. Then, pull your toes toward your shins and use your hand to put pressure on the foot to increase the stretch. Next, stretch your feet in both sideways directions.
Toe Curls
Toe curls stretch the toes, feet and tendons. You should wait until swelling has stopped and you feel less pain before doing this exercise. To perform the toe curl exercise, drop a towel on the floor. Put all your weight onto the leg without the stiff ankle. Place your foot with the stiff ankle on top of the towel. Pick up the towel by curling your toes.
Towel Dorsiflexion Stretch
Stiff ankles have difficultly dorsiflexing, which is when you pull your toes back like after you take a step. You might walk with a limp or have a hard time going downstairs when the ankle is stiff this way. The towel dorsiflexion stretch relieves stiffness and makes it easier for you to walk. To perform this stretch, sit on the floor with the leg of your stiff ankle straight in front of you. Pull your toes toward you and wrap a towel under the ball of your foot. Pull the towel to increase the stretch. A belt or yoga strap works too.
Photo Credits:
Stockbyte/Stockbyte/Getty Images
This article reflects the views of the writer and does not necessarily reflect the views of Jillian Michaels or JillianMichaels.com.