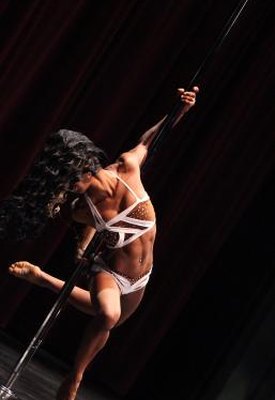 If you're looking for a way to spice up your workout routine and still lose weight, pole dancing offers a sexy solution. Pole dancing is no longer relegated to the realm of exotic dancers. With pole dancing, women of all ages and sizes can reap the rewards of a full body workout while learning some seductive moves and building confidence.
History of Pole Dancing
Pole dancing is a seductive performing art that involves dancing with a vertical pole using elements of gymnastics. It began as a form of entertainment in circuses and later became common in strip clubs and cabarets. Pole dancing has become popular as a fitness activity in recent years. The number of pole dance classes that have sprung up across the country continues to rise. In 2008, the US Pole Dance Federation was formed to unite pole dancers across the country.
The Workout
Dancing offers an aerobic workout that burns calories and improves flexibility. According to an interview by Canada.com with pole dancing instructor Wendy Traskos, a former gymnast and go-go dancer, pole dancing offers the added benefits of resistance training. Pole dancing works the core muscles in the back, legs and glutes; it requires those major muscles to support the body while on the pole and while performing maneuvers. Pole dancing helps improve balance as well. It requires skill and practice to navigate the pole.
Weight Loss Benefits
By combining cardio and resistance training, pole dancing helps women lose weight. Angela Edwards, owner of PoleLaTeaz, an Atlanta dance studio, told CNN that she has had many students lose weight from pole dancing, losing anywhere from a few pounds to 20 or 30 pounds within a matter of months. In addition, pole dancing helps women feel sexy, confident, feminine and comfortable in their bodies.
Warning
Pole dancing includes a risk of injury, so dancers should take precautions. Pole dancer "Lux," a professional dancer at Scores club in New York, in an interview with "Entertainment Weekly" advises dancers to use chalk powder on their hands to keep from slipping on the pole. She also advices wearing stilettos with grips, stretching before working out and bringing your own cloth to wipe down the pole before you begin each session. Dancers should go at a pace that feels comfortable for their individual bodies and modify poses as needed.
Try It
You do not have to look like a stripper or movie star to do pole dancing. Women of all ages and sizes can benefit from the classes. According to Traskos, women from ages 18 to 60 take her classes, and they come from a diverse range of backgrounds. Pole dancing offers a serious workout with sensual fun for everyone, allowing women to get in a good sweat and lose weight while feeling sexy and feminine.
Photo Credits:
Jeff Schear/Getty Images Entertainment/Getty Images
This article reflects the views of the writer and does not necessarily reflect the views of Jillian Michaels or JillianMichaels.com.