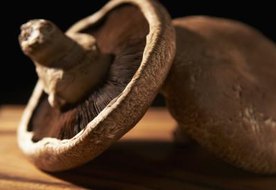 Portabella or portabello mushrooms are large, flat-capped mushrooms, measuring up to 6 inches across that have, in the last few decades, become one of the most popular mushroom varieties. While the portabella mushroom can be chopped or sliced the same as any capped mushroom, It is often grilled, broiled or roasted whole for a more dramatic presentation. Low in sodium and saturated fats, portabella mushrooms are a good source of certain essential vitamins and minerals. The mushroom is also a good choice for individuals who are calorie-conscious, as it is very low in calories in comparison to the serving size.
Components
The U.S. Department of Agriculture Nutrient Database indicates that a 1-cup serving of portabella mushrooms weighs 86 grams. Carbohydrates make up the most of this quantity at 4 grams. Proteins comprise 1 gram of the serving. There are no appreciable amounts of fat. The remainder consists of other nutrients and water. A serving of portabella mushrooms provides 1 gram of dietary fiber.
Caloric Value
A 1-cup serving of portabella mushrooms is low-calorie at just 22 calories, of which 16 calories come from carbohydrates. A total of 6 calories are derived from protein. The same serving can provide around 1 percent of the total daily recommended caloric intake for the average adult.
Vitamins
A single serving of portabella mushrooms contains several essential vitamins including riboflavin at 0.4 milligrams or 32 percent, niacin at almost 4 milligrams or around 25 percent, and pantothenic acid at 1.3 milligrams or 25 percent of the daily recommended intake. Other vitamins at less amounts include thiamine, vitamins B-6 and B-12 and folate.
Minerals
Many important dietary minerals are also found in a 1-cup serving of portabella mushrooms. Copper is at the top of the list with 0.3 milligrams or over 30 percent of the daily recommended allowance. Other significant quantities of minerals include selenium at 9.5 micrograms or 17 percent, potassium at 460 milligrams or 10 percent and phosphorus at 112 milligrams or 16 percent. Smaller quantities of calcium, iron, magnesium, zinc and manganese are also available within the serving.
Benefits
According to the American Heart Association, high amounts of both cholesterol and fats, especially saturated fats, can substantially increase the likelihood of cardiovascular disease occurring in some people. Portabella mushrooms are a heart-healthy food, containing no saturated fat or cholesterol. For those individuals seeking to reduce the amount of sodium in their diet, portabella mushrooms are a good choice, as they are particularly low in dietary sodium with only 8 milligrams.
DON'T MISS
Photo Credits:
Plush Studios/Photodisc/Getty Images
This article reflects the views of the writer and does not necessarily reflect the views of Jillian Michaels or JillianMichaels.com.