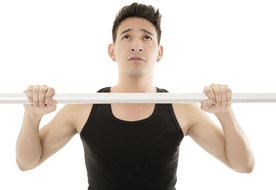 You don't need fancy or expensive equipment to exercise effectively at home, a fact evidenced by the home pull-up bar. Pull-ups work major muscles in your upper body, with specific muscle groups targeted by simply changing the position of your grip. Pull-up bars for your home range from a single, adjustable bar to more elaborate systems that give you a full upper-body workout.
Types of Bars
The biggest difference among the different types of home pull-up or chin-up bars is their mounting systems. The most basic is the bar that mounts in the doorway, slipping into a pair of brackets so you can remove the bar when you are not using it. Bars can also mount on the wall as a permanent fixture, a type that comes with an elaborate bracket system that keeps it positioned away from the wall's flat surface. One more type is the bar that does not require any hardware mount. This type includes the chin-up bar attached to curved brackets you place above the door frame and the bar stays in place from the force of your weight.
Bar Features
Chin-up bars for the doorways are usually adjustable to fit standard door frames up to 36 inches wide. They can come with two sets of brackets, one for the upper part of the doorway and one for the lower part, so you can use the bar for chin-ups in the high position and sit-ups in the low position. Bars can come with foam padding, hand grips or attachable handles to vary your exercises. More elaborate bars are full upper-body workout systems that have built-in side attachments and attachable handles or resistance bands you can use for a variety of upper-body exercises.
Sturdiness Required
Just as chin-ups are not for the weak, the chin-up bar is not for weak doorway or hardware. A sturdy doorway, usually with a door frame, is a must for installing the doorway bars. Solid walls are equally as vital for the wall-mounted varieties. Pay attention to the screw length and type that comes with the bar, as you might want to invest in sturdier or longer screws to ensure the bars stay securely in place. Also pay attention to bar's weight limit. Bars can usually support at least 300 pounds as long as they are installed correctly. Installing a pull-up bar is not a time to be shoddy with your work.
Buying a Bar
You can trek to the nearest heavy-duty fitness equipment store to buy a pull-up bar, but you don't have to. Pull-up bars for home use are widely available at general merchandise retailers, often for a cheaper price. Prices for basic home chin-up bars that mount in the doorway are quite affordable; wall-mounted bars are a bit costlier, but still modestly priced.
Photo Credits:
Photodisc/Photodisc/Getty Images
This article reflects the views of the writer and does not necessarily reflect the views of Jillian Michaels or JillianMichaels.com.