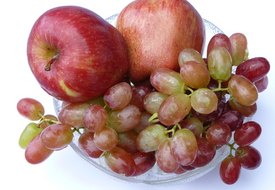 When it comes to eating meals that are well-balanced and healthy, planning is essential. You need the same planning for your snacks as well. Having a plan aids in making healthy choices when you get hungry. Having ingredients available to make snacks that are quick and healthy prevents you from giving into the urge to grab the ice cream in your freezer or make bad choices at vending machines.
Whole Grain Pita Bread and Hummus
Hummus is a dip that is low in fat and rich in flavor. It comes in a number of varieties, such as spicy red pepper, toasted pine nut, garlic, eggplant, cilantro and lemon. Simply place a whole-grain pita in the oven and heat it on low heat for about five minutes. Take the pita and cut it up into pieces for dipping. Dip the bread into your favorite flavor of hummus. You can also try hummus as a dip for cut-up vegetables or whole-grain crackers.
Fruit
Fruit is naturally sweet, making it a healthy choice to turn to when you experience a sweet tooth. Fruit is portable and can be served in a variety of ways. Smaller fruits can be served whole, while others are often sliced, cut into wedges or cubed. A handful of dried fruit, a frozen fruit bar or fruit smoothie made with frozen fruit and skim milk can also satisfy your sweet tooth without adding extra fat and calories to your daily meal plan.
Yogurt and Low-Fat Dairy
Yogurt can be a healthy snack but watch for yogurt with added sugar or toppings such as cereal, granola or candy. Sarah Krieger, registered dietitian and spokesperson for the Academy of Nutrition and Dietetics says that yogurt contains calcium, vitamin D, protein, potassium and B vitamins. Low fat cheese or 8 ounces of fat-free milk can also be a healthy snack.
Multigrain Waffles
Multigrain waffles have a slightly sweet taste that eliminates the need for large amounts of syrup. Some brands of multigrain waffles contain as much as 2g of fiber in each waffle. Instead of syrup, cut up some fresh strawberries, bananas or blueberries to give the waffle added sweetness. If you are craving a sweet dessert, spread 1 tbsp. of natural peanut butter on each waffle, top each one with a half a banana and fold.
"Snack Attack: Quick & Easy Heart-Healthy Snacks"; Elizabeth Monacelli; 2010
This article reflects the views of the writer and does not necessarily reflect the views of Jillian Michaels or JillianMichaels.com.