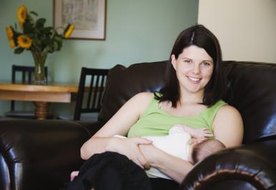 Breastfeeding not only nourishes your baby, but also helps you burn a significant number of calories. This means that you might be able to eat more while you are breastfeeding and still lose those pregnancy pounds. Consult your doctor if you have any questions about calorie intake or dieting while you are nursing.
Daily Calorie Intake
Caloric needs will vary for breastfeeding moms. Your body size and activity will determine how much you need to eat along with how much you breastfeed. Sheri Lyn Parpia Khan from La Leche League mentions the usual calorie recommendation of 500 additional calories compared to before your pregnancy; however, she says this may not be enough for some women and too much for others. The "ideal" diet for a breastfeeding mom is a well-balanced, nutritious diet that includes a variety of foods.
Calorie Quality
The quality of calories you consume while you're breastfeeding is just as important as quantity. The extra calories that you consume during lactation should be from healthy, nutrient-rich foods that will aid in your baby's growth and benefit your own health. Eat plenty of fruits, vegetables, whole grains, low-fat dairy foods and lean meats. Avoid high-calorie, low-nutrient foods, such as fast food, baked goods and high-sugar candy and soda. As a breastfeeding mom, you will need additional vitamins and minerals, particularly calcium, iron and vitamin C. Drink plenty of fluids to stay hydrated as well. Talk to your health care provider about continuing your prenatal vitamin.
Dieting
Aim for slow, consistent weight loss while you are breastfeeding. Excessive, quick weight loss may affect your milk supply and leave you feeling fatigued. Avoid dieting the first two months after your baby is born. After this initial period, you can diet safely by limiting your weight loss to 1.5 pounds per week. Generally speaking, however, it is best to eat when you are hungry in order to maintain a healthy and abundant milk supply and adequate energy levels.
Tips
In addition to getting adequate calories, stay hydrated while you are nursing. Avoid high-calorie, high-sugar drinks and opt for water instead. Benioff's Childrens Hospital at the University of California San Francisco recommends that you drink 8 cups of water daily. Drink caffeine and alcohol moderately while you're nursing. Secondly, some foods, like Brussels sprouts, chocolate, spicy foods and cauliflower may affect your baby and cause unusual fussiness. Finally, keep in mind that most new moms don't lose their baby weight for 10 months to a year.
Photo Credits:
Jupiterimages/Brand X Pictures/Getty Images
This article reflects the views of the writer and does not necessarily reflect the views of Jillian Michaels or JillianMichaels.com.