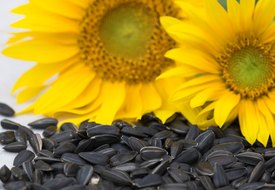 Sunflowers were one of the first plants to be cultivated in the United States. They were initially used by Native Americans as a food and oil source, and the stems and roots were also used for a number of purposes, including a dye pigment. Today, Russia, Argentina, Spain, Peru, France and China are the leading commercial producers of sunflower seeds, which are packed with nutrition. Nutritional values are based on a 1 ounce serving of dry-roasted sunflower seed kernels without added salt.
Basic Nutrition
One ounce of dry-roasted sunflower seeds contains 163 calories, 7 grams of total carbohydrates and 3 grams of dietary fiber. Based on a 2,000 calorie-a-day diet, these measurements represent 2 percent of the recommended daily value, or DV, for carbohydrates and 12 percent for dietary fiber. Sunflower seeds also provide 5.4 grams, or 11 percent DV, of high-quality protein.
Fats
The total fat content in a serving of sunflower seeds is 13.9 grams, which represents a large 21 percent of the recommended daily value. However, 14 percent of the total fat in sunflower seeds comes from healthy unsaturated fats. One serving provides 1.5 grams of saturated fat, but 2.7 grams of monounsaturated fats and 9.2 grams of polyunsaturated fats. You'll also gain heart-healthy fatty acids, as a serving has 19.3 milligrams of omega-3 and omega-9, and180 milligrams of omega-6.
Vitamins
Sunflower seeds are an excellent source of vitamin E, with 7.3 milligrams, or 37 percent DV. They also are high in pantothenic acid, with 2.0 milligrams, or 20 percent DV; vitamin E with 7.3 milligrams, or 37 percent DV; folate with 66.4 micrograms, or 17 percent DV; and vitamin B6 with 0.2 milligrams, or 11 percent DV.
Minerals
Sunflower seeds are a rich source of selenium, and contain 22.2 micrograms, or 32 percent DV; phosphorus with 323 milligrams, or 32 percent DV; manganese with 22.2 milligrams, or 30 percent DV; copper with 0.5 milligrams, or 26 percent DV. They also provide 7 percent DV of potassium and 6 percent DV of iron.
Sodium
If the sunflower seeds are processed without added salt, they have only 0.8 milligrams of sodium, which is barely a trace amount. When salt is added, sodium increases to 115 milligrams, or 5 percent of the recommended daily value.
DON'T MISS
Photo Credits:
sunflower and sunflower seeds image by Andrey Chmelyov from Fotolia.com
This article reflects the views of the writer and does not necessarily reflect the views of Jillian Michaels or JillianMichaels.com.