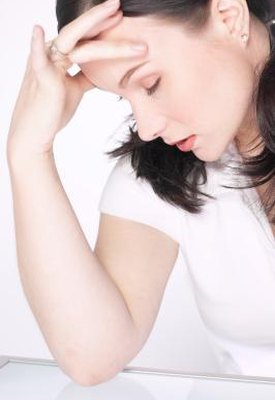 Many a runner has questioned whether to run while sick, reluctant to miss a workout but afraid of making an illness worse. While it seems logical to err on the side of caution and take a day or two off, some diehard runners either can't or won't reduce their training schedule when they get sick. If you're a runner with this dilemma, analyze your symptoms. Certain minor symptoms are fine to run with, but others are not.
Symptoms Above the Neck
One general guideline that many runners adhere to states that you can run if all your symptoms occur above the neck. Sinus congestion, sneezing or a scratchy throat may be uncomfortable, but Mindy Solkin from MarathonGuide.com says they are safe to run with. In fact, an easy run may ease your symptoms. When you exercise, your body releases adrenaline, a natural decongestant that may help to clear your nasal passages. Consider running a shorter distance or running at a reduced intensity to avoid overworking yourself. If you start feeling dizzy or nauseous or sweating profusely, stop running immediately.
Symptoms Below the Neck
You should not run if your symptoms are below the neck, such as chest congestion, vomiting, diarrhea, muscle aches, swollen glands or a serious sore throat. These symptoms indicate that you have a more serious virus or infection, one that may increase dehydration and lead to more problems if you run. Myocarditis -- an inflammation of the heart muscle -- occurs occasionally with serious viruses and usually is asymptomatic. According to Dr. A. Marc Harrison at the University of Lethbridge, exercising when you have myocarditis can cause extra inflammation and damage to the heart muscle, and in rare cases, sudden death. When you exhibit symptoms below the neck, take off a few days or even a week, depending on how severe your illness is, to let your body recover.
Fever
Don't run with an elevated temperature. When you have a fever, your body is working hard to regulate your temperature. Exercising raises your temperature even more and puts added stress on your body, especially your muscles. During a fever, your body releases chemicals that break down muscle protein to fight the illness. These chemicals also prevent muscle repair and building, making it almost impossible to build muscle. Running with a fever also increases the risk of heatstroke and brain damage, says Dr. Kamal Jabbour, a scientist and long-distance runner. Avoid running until your temperature is normal, provided you have no other serious symptoms.
Prevention
To avoid missing runs, be proactive when it comes to your health. Before you even get sick, make it a habit to wash your hands frequently and use hand sanitizer, especially when in public areas and around sick individuals and young children. Take vitamin C on a daily basis; take zinc when you feel the first signs of an illness. Keep your office and home clean with sanitizing wipes or spray, especially areas such as doorknobs, light switches, keyboards and telephones that are touched by many people.
Photo Credits:
Hemera Technologies/Photos.com/Getty Images
This article reflects the views of the writer and does not necessarily reflect the views of Jillian Michaels or JillianMichaels.com.