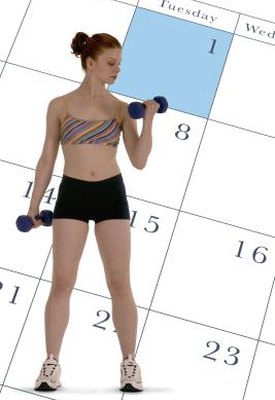 Setting up your own fitness plan is an important step in attaining optimal health and wellness. Physical fitness can improve your mood, prevent disease and help keep your weight in check, according to the Centers for Disease Control and Prevention (CDC). Your plan should ideally combine all aspects of fitness and should introduce new and healthy habits into your lifestyle. You should personalize it and take into account everything that you hope to achieve. It should help to show your progress and motivate you to continue on your journey.
Step 1
Set a goal. No fitness plan is complete without a goal. Setting a goal could define the difference between success and failure. Your goal could be anything from losing weight to improving your health. To set your goal, take some time to consider what you want out of your fitness plan. Try setting one main goal with several smaller goals along the way. If your primary goal is to lose 20 pounds, set up small goals of five pounds each. If you goal is to run 10 miles, start with 1 mile and add on as needed. Start a journal and keep track of all your goals.
Step 2
Schedule time for fitness. Adding a regular exercise routine into your schedule doesn't have to be difficult. Find the best time for your workout and pencil it into your calendar. Schedule it for a time that will increase your likelihood of success. If you are generally a night person, try penciling your workout into the P.M. hours. Create a calendar and schedule daily exercise. Vary the types of exercises to prevent boredom and plan to work different parts of the body throughout the week. Have your workout already worked into your schedule so it's easier to stick to.
Step 3
Combine cardio with strength training and flexibility exercises for optimal results. The American College of Sports Medicine recommends approximately 30 minutes of moderate exercise five days per week to maintain health. They also recommend 8 to 10 strength training exercises twice per week. Before and after every workout, you should improve your flexibility by stretching all your major muscle groups.
Step 4
Remember nutrition. Womenshealth.gov recommends that you focus on eating lean protein, calcium-rich foods, and a large variety of fruits and vegetables. Ideally, your fitness plan should work on incorporating healthy eating habits into your lifestyle.
Step 5
Reward yourself. Monitor your progress in your journal and reward yourself often. Weight Watchers suggests rewarding yourself will help make your goals more attainable and ensure that you stick with your new fitness plan. Plan a special day out after meeting your goals, and you'll be motivated to push yourself to finish.
Items you will need
✓

Progress journal

✓

Calendar
Warning
Speak with your doctor before beginning a diet or strenuous exercise program.
Photo Credits:
Comstock Images/Comstock/Getty Images
This article reflects the views of the writer and does not necessarily reflect the views of Jillian Michaels or JillianMichaels.com.