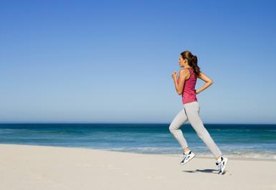 A 5K race, a 3.1-mile run, is an ideal distance for beginners. You need only seven weeks to prepare for a 5K race even if you're a novice runner. You can start with walking workouts or a combination of run/walk intervals during the first few weeks and be ready to run the 3.1-mile course in less than two months.
Training Features
A typical 5K training schedule accommodates walks, runs, rest days and, if you prefer, cross-training days. Generally, you need to set aside time for three or four workouts a week for running or run/walk interval training. Two or three of these workouts serve primarily as conditioning sessions, helping your body adjust to running on a regular basis. The final weekly run functions as your long run, helping you build cardiovascular endurance for longer distances.
Getting Started
Community 5K races typically accommodate both walkers and runners. If your primary goal is to finish your first 5K and exercise is a fairly new undertaking for you, you might consider walking the entire distance. On the other hand, the challenge of running your first 5K is attainable even if you're a newbie. During your first two weeks of training, alternate between running for 15 seconds and walking for 45 seconds, aiming for 30-minute workouts twice a week and another 3- to 3.5-mile run on your long run day.
Progresssion
Increase your running intervals to 20 seconds and cut walking intervals back to 40 seconds during weeks 3 and 4, keeping your long run at three to four miles. Continue your 30-minute runs at least two to three times a week during weeks 5 through 7, increasing your long run to 4.5 miles during week 6. Gradually decrease walking intervals while increasing running intervals until you're able to run the entire distance, if this is your goal. By the end of week 7, you'll be ready for your 5K race.
Considerations
You need one or two rest days to give your running muscles a break. On non-running or rest days, walk or choose another exercise option you enjoy. Bicycling, swimming, weight training and yoga, for example, make good cross-training choices. Check with your doctor before starting a running program if you have a history of heart or orthopedic problems.
Photo Credits:
Pixland/Pixland/Getty Images
This article reflects the views of the writer and does not necessarily reflect the views of Jillian Michaels or JillianMichaels.com.