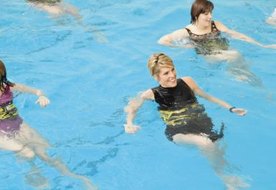 Overview
Water aerobics instructors have flexibility when it comes to offering creative class activities. Mix up your exercise routine and try new things with fins, water noodles, water dumbbells and kickboards. Consider your class before implementing a new idea, because not all ideas are appropriate for every swimmer. For instance, if you're working with a senior population with mobility concerns, you probably shouldn't add jumping or high-intensity activities.
Ideas for a Jogging Workout
If you're teaching a group of participants who want a high-intensity workout, consider taking them into the deep end of the pool for a strenuous water jogging routine. Distribute water flotation belts to those who want the support, then lead them in a circular route around the deep end as you take them through various running motions. Think of it as a track and field workout in the water. Participants can jog forward normally, jog forward while kicking, jog with high knees in front of the body and even jog backwards. Change the direction of the run or the style of run every minute or so to keep class members working hard.
Ideas for Participants with Arthritis
According to the Arthritis Foundation, individuals with arthritis who participate in water exercise can see a reduction in pain and an improvement in overall function. As an instructor, you need to know how to offer classes that benefit individuals who experience arthritis pain. Kathi Kent, certified arthritis aquatic therapy instructor in Stayton, Oregon, suggests performing walking and stretching exercises that focus on range of motion and mobility. For instance, have participants walk back and forth across the pool's width in the shallow end, then have them walk backward, laterally and while opening the hips. Instruct participants to use their upper bodies as well, alternating between a breaststroke, freestyle or butterfly motion of the arms. When adding resistance, use light options such as water noodles rather than the more intense water dumbbells.
Ideas for an Intense Routine
Most instructors associate kickboards and fins with lap swimming instead of water aerobics classes, but they shouldn't be overlooked as an extra option. By placing the kickboard vertically into the water, you'll greatly increase the resistance of any exercise you perform. Participants unused to using fins will find that the extra resistance challenges the legs and abs. Rebekah Meeks, aquatics manager in Stayton, Oregon, suggests placing a kickboard vertically in the water, then instructing participants to perform a flutter kick in the fins across the length of the pool. They'll experience added resistance in the upper and lower body throughout the routine.
Rebekah Meeks; City of Stayton Aquatic Manager; Stayton, Oregon
Kathi Kent; City of Stayton Specialty Instructor; Stayton, Oregon
Photo Credits:
Photodisc/Valueline/Getty Images
This article reflects the views of the writer and does not necessarily reflect the views of Jillian Michaels or JillianMichaels.com.