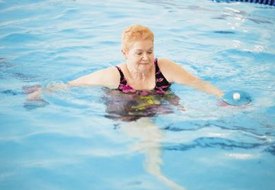 Water dumbbells are innovative resistance training tools that utilize the natural resistance of water to help build and tone your muscle. The advantage of training in a pool rather than in a gym is that water dumbbells provide constant resistance, whether you are lifting or lowering the weight. You can get guidance and instruction for this kind of exercise for free, though you'll need to pony up some cash for water dumbbells if your gym or pool does not have a pair on hand.
Materials and Models
Water dumbbells come in various shapes and sizes. Most are made from naturally buoyant foam material, which is what provides the resistance underwater. Some models feature removable foam discs for adjusting the resistance level, which is an important feature as your strength increases and increased resistance is necessary. Water weights range from inexpensive to moderately priced, and are available at most major swimming accessory stores or major retailers. Many come with a free DVD that offers guidance.
Back to Basics
A few of the basic exercise techniques you can use in the water include bicep curls, reverse curls, upright rows, reverse shoulder presses, barbell kick swim and standing twists. By performing these exercises in a pool, you reduce your body weight by 90 percent, which likewise reduces the impact on your joints, knees and back. Resistance training exercises in the pool naturally adds more resistance than the same exercise outside of the water. Adding water dumbbells to the equation further increases the resistance for a more intense workout.
Dive Into the Workout
To do a simple aqua resistance workout using dumbbells, warm up to stretch out your muscles and get your blood flowing – simple torso twists or jogging in place for about five minutes will suffice. Perform dumbbell movements in this order: lateral raises, chest flyes and arm lifts. These will exercise the muscles in your shoulders, chest and core.
Staying in Shape
Aqua exercise can help anyone looking to stay in shape, especially anyone with chronic back or joint pain. Search online for free water-resistance programs that you can do with your aqua dumbbells. If you don't find one you want, you can still get a good training regimen by focusing on water walking, deep-water walking, bicep and tricep curls and weighted swim kicks. Make slight variations of each exercise to target muscles from slightly different angles, another advantage of exercising in water.
Photo Credits:
Photodisc/Valueline/Getty Images
This article reflects the views of the writer and does not necessarily reflect the views of Jillian Michaels or JillianMichaels.com.